You are here:
MIPI UFS 2.0/2.1 Host
UFS is a simple, high performance, serial interface used in mobile systems as a mechanism to communicate between host processor and mass storage devices like Flash and other non-volatile memories. This communication is achieved using a UFS Host and UFS Device, using MIPI Unipro and MPHY as Link and PHY layers respectively. UFS Host controller interface is responsible for managing the interface between host software and UFS device to do a data transfer. It also does the interface management, power management and control.
GDA UFS Host device works perfectly with GDA UFS Device, GDA MIPI Unipro and GDA Partner's MPHY. With this, GDA provides the complete solution including software.
Features
Compliant with UFS Spec v2.0

AXI Support

All UPIU Processing

Datain, Dataout, Command, Response, RTT & Query

Complete control of UIC Layer by UFS Host

Error Reporting and Handling Supported

Priority arbitration between command, query and task management UPIUs and Indexed based processing within Command and Query UPIUs.

Supports 32 UTP Transfer request descriptors and 8 UTP Task Management Descriptors for UFS host

2 C-ports
Deliverables
RTL code

Detailed design document

Verification environment

Test cases

Synthesis environment/scripts

Documentation

Design Guide

Synthesis guide
Block Diagram of the MIPI UFS 2.0/2.1 Host IP Core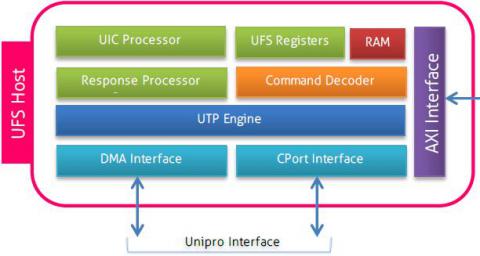 ---
View MIPI UFS 2.0/2.1 Host full description to...
see the entire MIPI UFS 2.0/2.1 Host datasheet
get in contact with MIPI UFS 2.0/2.1 Host Supplier