You are here:
Simple Micro APB Bus Controller
CoreABC is a simple, low gate count controller for Advanced Microcontroller Bus Architecture (AMBA®) advanced peripheral bus (APB) based designs. In particular, it is targeted to control CoreAI and CorePWM in mixed-signal applications, but it can be used to control any APB or APB3 bus IP core. CoreABC supports a comprehensive assembler-based configurable instruction set architecture and extensive and flexible configuration of size and feature options allowing it to be tuned to meet the resource constraints and processing power requirements of a wide variety of applications. The instructions executed are either held in a small internal ROM constructed from logic tiles ("hard" configuration), stored in RAM blocks internal to CoreABC ("soft" configuration), or in Fusion or SmartFusion devices, in on-chip nonvolatile memory ("NVM" configuration). The core is easy to configure and program offering efficient local control for use in real-time applications in Microsemi FPGAs.

The core consists of six main blocks:
* Instruction block
* Sequencer
* ALU and flags
* Storage
* ACM
* APB controller
* AMBA3 APB master interface controller
Features
Programmable APB bus controller

Hard, soft (RAM), or NVM instruction storage on Fusion devices; hard instruction storage on SmartFusion2, IGLOO2, RTG4, and PolarFire devices; hard or soft instruction storage on other device families

Automatic detection of CoreAI in CoreABC's APB address space and auto-creation of analog configuration MUX (ACM) data, based on CoreAI configuration

Extensive configurability, allowing very low cost and resource efficient implementations

APB interface can be configured for 8, 16, or 32-bit data

In NVM instruction storage mode, APB data type read and write access to the instruction store memory (through an APB slave interface) is supported

Built in general purpose input/output (GPIO) signals

Interrupt driven operation using interrupt request and interrupt active signals
Block Diagram of the Simple Micro APB Bus Controller IP Core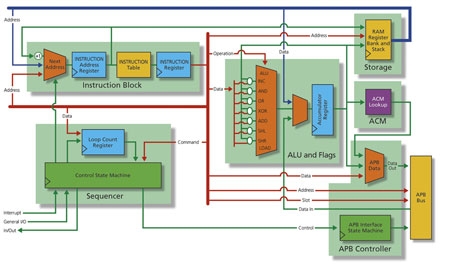 ---
View Simple Micro APB Bus Controller full description to...
see the entire Simple Micro APB Bus Controller datasheet
get in contact with Simple Micro APB Bus Controller Supplier
Simple Micro APB Bus Controller IP