You are here:
USB Type-C Authentication IP
Siliconch SCAE10IP is a USB Type-C Power Delivery 3.0 compliant Authentication IP which is based on the latest USB Type-C Authentication specification revision 1.0. The SCAE10IP features hardware accelerated NIST compliant crypto blocks and is a fully functional standalone Authentication engine, and features a complete asymmetric (public/private) key based Elliptical Cryptographic Digital Signature Algorithm (ECDSA) solution. Typical applications include USB-C cables, power adapters, hubs, smartphones, power banks and flash drives. This IP enables restriction on the usage of uncertified USB-C devices, accessories and cables protecting the host system. The SCAE10IP includes various defensive mechanisms to void any logical attacks such as power, timing and side-channel.

Features
Complete stand-alone hardware Authentication engine

ASN X.509 v3 certificate based client Authentication

Strong protection using asymmetric Authentication protocol compliant to NIST- FIPS-184-4 with P256 secp256r1 elliptic curve

Configurable as Authentication Initiator or Responder depending on the use case being a host or device respectively

Support of defensive mechanisms to avoid attacks against power (Simple Power Attack (SPA) / Differential Power Attack (DPA)), timing and side-channel attacks

True-Random Number Generator (TRNG) 256-bit full seed generator with an entropy value compliant to NIST SP800-90B

Pseudo-Random Number Generator (PRNG) compliant to NIST SP800-90A

Interface support for DMA access to accelerate block data transfer

Re-authentication supported

Built-in SHA-256 hardware block

ECC over GF(p) signature generation and verification (ECDSA)

Centralized Crypto controller

Modulo arithmetic accelerator block for performing scalar prime field operations

Highly optimized logic with low gate count and supports frequencies up to 50 MHz

Easy integration support of Authentication IP into end solutions
Benefits
Lowest Gate count

Highest Performance

Low Power
Deliverables
Fully Synthesizable Verilog RTL source code

Firmware source code

ASIC Synthesis constraints and scripts files

FPGA Synthesis constraints and scripts files

FPGA Development platform kit

Complete USB Type-C Authentication IP in GDSII including Analog TRNG

UVM based Verification Environment and test sequences

User Manual, Programming guide and Verification documents
Applications
USB Type-C Power Delivery

USB Type-C Datapath
Block Diagram of the USB Type-C Authentication IP IP Core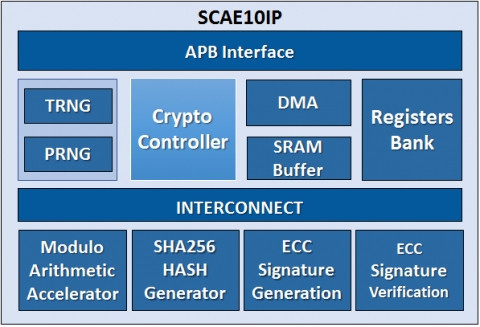 Video Demo of the USB Type-C Authentication IP IP Core
---
View USB Type-C Authentication IP full description to...
see the entire USB Type-C Authentication IP datasheet
get in contact with USB Type-C Authentication IP Supplier