You are here:
VDC-M 1.2 Decoder
The BTREE VDC-M 1.2 Decoder IP Core fully complies with VESA VDC-M 1.2 (Display Compression). Its visually lossless compression performance is up to 5:1(6bpp).
Features
VESA Display Compression-M (VDC-M) 1.2 Compliant

8, 10, or 12 bits per Color Support

4:4:4 RGB Native Decoding

4:4:4, 4:2:2, or 4:2:0 YCbCr Native Decoding

Support All VDC-M Encoding Mechanisms

BP, BP Skip, MPP, MPP Fallback, and Transform

Flatness Detection and Signalling

Configurable Maximum Display Resolution of Up to 16K x 16K

Typical 4K (4096x2160), 5K UHD+, and 8K UHD Supported

Frame-by-Frame Compression

Parameterizable Number of Parallel Slice Decoder Instances (1,2,3,4) to Adapt to the Capability of the Technology and Target Display Resolutions Used

Supports Logical Slice Decoding (Soft Slice) in Each Physical Decoder (Hard Slice)

Pixel Throughput of 2 Pixels per Clock per Hard Slice Decoder
Benefits
Ultra-Low Latency

Reduces Power and System Costs

Slice Configuration : 1,2,3,4

Optimized for Power Saving
Deliverables
IP Specification

Encrypted RTL Source Code IP Core

Comprehensive Integration Guide

Technical Support and Maintenance Updates

IP Customization and Integration Services Available

Multi-Project Licenses Available
Applications
AR/VR Products

4K/8K/16K Video Source

Mobile & Tablets

Test Equipment

MIPI DSI-2 Applications

Automotive Video Transmission
Block Diagram of the VDC-M 1.2 Decoder IP Core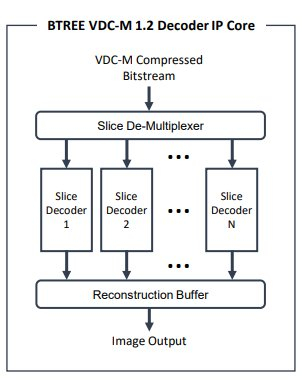 ---
View VDC-M 1.2 Decoder full description to...
see the entire VDC-M 1.2 Decoder datasheet
get in contact with VDC-M 1.2 Decoder Supplier