You are here:
WCDMA Release 9 compliant Viterbi Decoder
The Lekha IP – 3GPP WCDMA Viterbi Decoder IP Core V1.0 addresses the implementation of the Viterbi Decoder defined as part of the Forward Error Correction block compliant to 3GPP TS 25.212 V 9.5.0
Features
WCDMA Release 9 Compliant

Implements Viterbi decoder to address the convolution encoded bit stream as defined in Section 4.2.3.1 of the specification 3GPP TS 25.212 V 9.5.0 Release 9

Supports all block sizes i.e., K=40 – 504.

Constraint length of 9

Configurable Code rate of 1/2 and 1/3 with rate matching for other code rates supported

Easy interface definition

Easy support for rate matching and bit collection

Customization to AXI or Avalon bus interface supported.

Bit accurate simulation models available for RTL test vector generation.
Benefits
Easily portable across various FPGA families from different vendors

Customization support available

Optimized for performance and area
Deliverables
Licensable in Netlist or Verilog or VHDL source format

Target technology – Xilinx, Altera, Lattice devices

Test bench

C, VHDL, Verilog simulation models available

Detailed technical documentation
Applications
W CDMA Forward error correction block
Block Diagram of the WCDMA Release 9 compliant Viterbi Decoder IP Core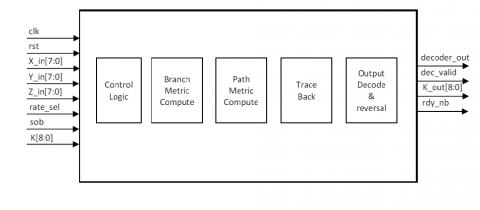 ---
View WCDMA Release 9 compliant Viterbi Decoder full description to...
see the entire WCDMA Release 9 compliant Viterbi Decoder datasheet
get in contact with WCDMA Release 9 compliant Viterbi Decoder Supplier