You are here:
MIPI® CSI -2 OVM 2.0 Class based Verification IP
MIPI Specifications establish standards for hardware and software interfaces between the processors and peripherals typically found in mobile terminal systems.
The MIPI CSI-2 VIP is an interface between a digital imaging module such as a host processor and image sensor peripheral such as a camera. It is available as a CSI-2 Receiver or Transmitter VIP.
eInfochips' MIPI CSI-2 VIP is based on the layered architecture of object oriented programming that allows coverage driven verification suitable for verifying transmitter and receiver with either of them as DUT.
Features
The OVM 2.0 Class based MIPI CSI-2 VIP is a readymade, highly configurable, SystemVerilog Verification IP suitable for verification of MIPI CSI-2 Transmitter/ Receiver/ Transmitter with D-PHY/ Receiver with D-PHY/ D-PHY/ Transmitter and Receiver with D-PHY DUTs and for coverage measurement. The VIP can be easily configured and integrated with the verification environment.

MIPI CSI-2 Supported Features:

4 virtual channels

All synchronization short packets

RGB, YUV and RAW long packet data types

Interleaved and normal frames

Inoperative and operative mode of frame number/line number

CCI read and write transactions

Directed, constrained and fully random testing mode

Configurable transaction generation for each device model

Fully configurable fields of short and long packets

Monitors and checkers for protocol violations

Coverage report generation

Standard sequences for various types of frames/packets

User-defined frame formats

MIPI D-PHY BFM Supported Features

1~4 PHY data lanes and 1 clock lane

Unidirectional data transfer in forward direction

High-speed data transmission as D-PHY Master

High-speed data reception as D-PHY Slave
Benefits
eInfochips is a MIPI Alliance member.
Deliverables
Completely verified MIPI Verification Component encrypted code

Documentation - User's Guide, Release Notes

Sample test bench

Sample Test cases
Block Diagram of the MIPI® CSI -2 OVM 2.0 Class based Verification IP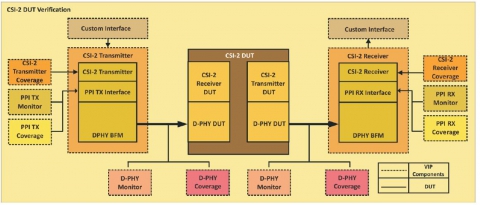 ---
View MIPI® CSI -2 OVM 2.0 Class based Verification IP full description to...
see the entire MIPI® CSI -2 OVM 2.0 Class based Verification IP datasheet
get in contact with MIPI® CSI -2 OVM 2.0 Class based Verification IP Supplier