You are here:
PCI Express Verification Component
The PCI Express eVC can be used for verification of a device that supports the PCI Express standard. The eVC is compliant to PCI Express Base Specification revision 1.0, 22nd July 2002. It expedites creation of a more efficient testbench for the Device Under Test (DUT) and can operate with both Verilog and VHDL environments. It can perform with all HDL simulators that are supported by Specman Elite™.
Features
Supports Point-to-Point & Fabric topologies as PCI Express port

Support for Transaction Layer Packet Protocols

Support for Data Link Layer Packet Protocols

Support for Physical Layer Packet Protocols (Logical Block)

Selectable stand-alone or simulator verification mode

Configurable support for scoreboard implementation

Supports loop-back mode

Configurable validation rules check for each layer

Configurable sequence generator for injecting random, directed-random as well erroneous test cases for transactions
Block Diagram of the PCI Express Verification Component Verification IP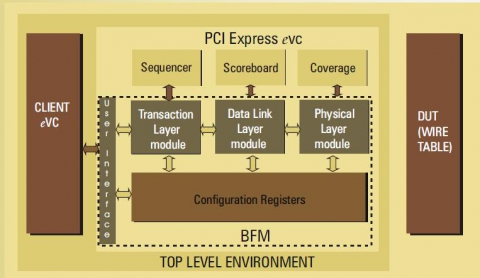 ---
View PCI Express Verification Component full description to...
see the entire PCI Express Verification Component datasheet
get in contact with PCI Express Verification Component Supplier