You are here:
PIPE 4.3 compliant PHY Verification IP
azPHY 1.0 is a perfect solution to verify high speed interface serdes IPs that support the high speed standards e.g. PCIe, USB and SATA. This VIP consists of modular components viz. azPHY model, azMAC uvc and azPIPE interface analyzer. azPHY is a systemverilog based PIPE 4.3 compliant PHY model. azPIPE is a set of assertions to verify the correctness of the PIPE interface and azMAC is a UVC to mimic the controller behaviour.
Features
Plug-n-play Phy verification solution

azPHY is fully compatible to PIPE specification Ver 4.3

azPHY supports driving real values on the srial line with variable de-emphasis, preshoot and swing.

azPIPE is an independent set of assertions and can be plugged in at the PIPE interface

azMAC is capable of generating all PHY related scenarios mimicking a PCI Express/USB or SATA controller.

Support for error injection on Tx and Rx side

Transmitter equalization support
Benefits
Quick turn around time for high speed serdes verification

One stop solution for serdes related features and PIPE standard related features for complete PHY verification

Readily available test suite to run and find bugs.

Configurable data rates, bus width and number of lanes.

All combinations of data rate, data width abd PCLK frquency supported.
Deliverables
PHY Model

Back-to-Back testbench

Exhastive test suite

User Guide
Block Diagram of the PIPE 4.3 compliant PHY Verification IP Verification IP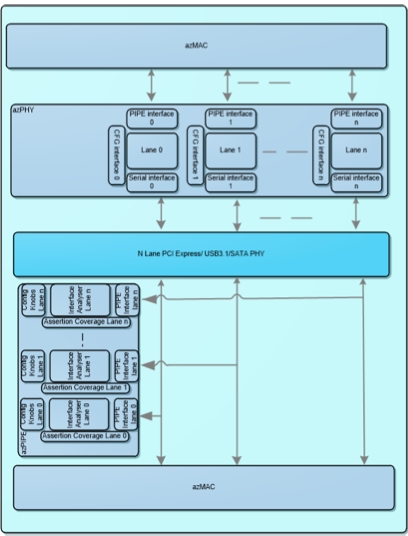 ---
View PIPE 4.3 compliant PHY Verification IP full description to...
see the entire PIPE 4.3 compliant PHY Verification IP datasheet
get in contact with PIPE 4.3 compliant PHY Verification IP Supplier