You are here:
Synopsys Verification IP for LPDDR4
Synopsys® VC Verification IP for the JEDEC LPDDR4 memory protocol specification provides a comprehensive set of protocol, methodology, verification and productivity features, enabling users to achieve rapid verification convergence on LPDDR4 based designs. VC VIP LPDDR4 is integrated with Verdi Protocol Analyzer, a protocol-centric debug environment that gives users an easy to understand view of memory operations along with a consolidated view of the entire memory address space. VC VIP LPDDR4 is written entirely in SystemVerilog to run natively on any simulator. Testbench development is accelerated with the assistance of built-in verification plans, functional coverage and example tests. In addition to providing LPDDR protocol verification, the Synopsys LPDDR4 VIP can be dynamically configured to model any memory vendor component.
Features
LPDDR4 SDRAM Supported Protocol Features

4Gb to 32Gb densities and x16 SRAM devices

Write leveling, DQ Read Training and ZQ Calibration

Directed per bank refresh for concurrent bank operation, Data Bus Inversion (DBI)

Power Off Sequence, Self Refresh, Deep Power Down, Partial Array Self-Refresh

LPDDR4 SDRAM Supported Verification Features

Bypass and Fast Memory initialization

Error injection

Configurable timing

Extensive protocol and timing checks

Built-in functional coverage

Backdoor access to memory contents
Benefits
SystemVerilog and Verilog testbench

Native UVM and VMM support

Runs natively on all major simulators

Protocol-aware debug

Built-in verification plan and coverage

Built-in protocol checks

HTML based documentation

Source code visibility
Block Diagram of the Synopsys Verification IP for LPDDR4 Verification IP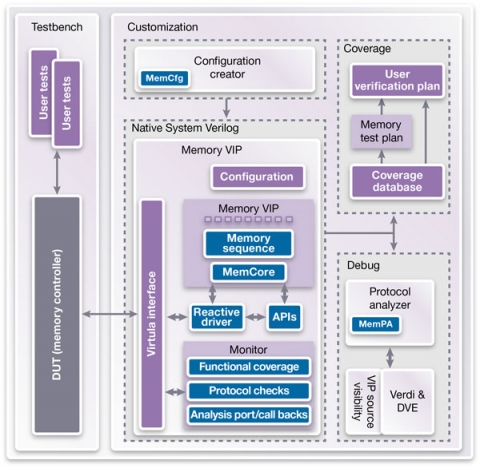 ---
View Synopsys Verification IP for LPDDR4 full description to...
see the entire Synopsys Verification IP for LPDDR4 datasheet
get in contact with Synopsys Verification IP for LPDDR4 Supplier