You are here:
UART VMM based Verification IP
The VMM based UART VIP is complaint to National Semiconductor 16550 design. The UART interface allows a duplex, asynchronous, serial communication and is a widely used protocol for communication peripheral interface. The UART VIP is an interface typically between the microprocessor (DTE – Data Terminal Equipment) and a communication peripheral such as a Modem (DCE – Data communication Equipment). It is available as an UART transmitter and UART receiver or as a stand-alone UART monitor.

eInfochips' UART VIP is based on layered architecture of object oriented programming that allows coverage driven verification suitable for verifying UART Transmitter and UART Receiver devices.

Features
Transmitter & receiver allows the user to transmit & receive UART data

Supports full duplex operation

Supports configurable baud rate (range from 1 to 216 – 1)

Supports fully programmable serial interface

5, 6, 7 or 8 character bits

Even, odd, stick or no parity generation and detection

1, 1 ½ or 2 stop bit generation

Supports fault start bit detection

Supports false stop bit detection

Supports break indication generation and detection

Full support for modem control signals transmit and receive

Supports DCE and DTE modem functionalities

Supports error generation and detection (parity, framing etc.)

Compatible with NS16550

Monitors and checkers for protocol violation

Provides verification scalability using functional coverage

Provides hook-up at various stages of BFM for user interference

Uses open source VMM-1.1

Highly flexible and configurable
Block Diagram of the UART VMM based Verification IP Verification IP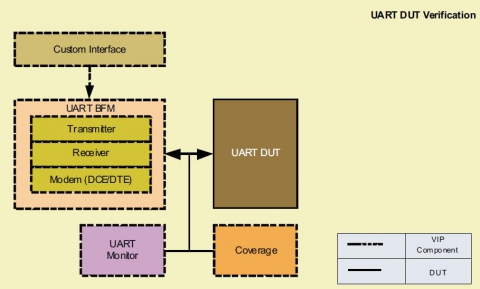 ---
View UART VMM based Verification IP full description to...
see the entire UART VMM based Verification IP datasheet
get in contact with UART VMM based Verification IP Supplier