You are here:
VC Verification IP for Fibre Channel
Synopsys VC Verification IP (VIP) for Fibre Channel is designed to thoroughly verify Fibre Channel designs using both random and directed simulation. The Fibre Channel VIP provides full protocol functionality and includes application layers that vastly simplify testbench development. Application layers provide simple APIs to act as a SCSI initiator, SCSI target or as a user-defined application.

Features
Supports any speed, including 8Gb, 10Gb, 16Gb, 32Gb and 128Gb

XAUI

Supports L, N, and F ports

SAM-4 Application level exerciser for both unit and system level testing

Supports multiple instantiations to test multi-port hosts, switches or devices

Configurable pattern generation for random, directed or erroneous patterns

Constrained-randomized parameters to aid in coverage during randomized testing

Statistics reported at each level to help determine corner case coverage

Callbacks and hooks for use in directed test writing

Full Initiator and target models

Includes the following transactor interfaces for directed testing:

10 or 20 bit PHY interfaces

8 bit Encoder/Decoder interface

32 bit Dword Primitive interface

Dword level transport interface

Complete Frame transaction level interface
Benefits
Runs natively on all major simulators

Built-in Protocol checks

HTML based documentation
Block Diagram of the VC Verification IP for Fibre Channel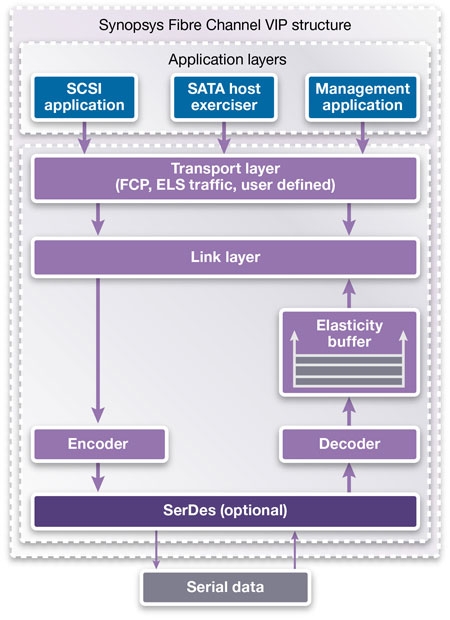 ---
View VC Verification IP for Fibre Channel full description to...
see the entire VC Verification IP for Fibre Channel datasheet
get in contact with VC Verification IP for Fibre Channel Supplier