You are here:
VC Verification IP for HSI
Synopsys VC Verification IP for MIPI HSI is a comprehensive VIP solution enabling pre-silicon functional verification of MIPI HSI (High-speed synchronous Serial Interface) compliant designs.
Features
Compliant to MIPI HSI Physical Layer Version 1.01.00 specifications

Backward compliant to MIPI HSI Serial Interface Version 1.0 specifications

Supports all control channel commands (32-bit)

SystemVerilog Assertions (SVA)-based protocol checker

On-the-fly protocol checking

Programmable number of channels for data transfer

Programmable PDU lengths from 0 to 256 KB

Works on a recovered clock based on DATA and FLAG signals

Up to 16 logical Tx and Rx full-duplex channels

Transmission Modes - Frame/Stream

Receiver Data Flow Modes -Synchronized/Pipeline/Rx Real Time

Extensive error-insertion and error-detection capabilities including signal error, additional clock, missed clock, invalid frame bit, idle in pipeline data flow, etc.

Supports all control channel commands as per the Data Link protocol layer

Capability to bypass Data link layer
Benefits
Verilog testbench

Runs natively on all major

simulators

Error injection

Built-in protocol checks
Block Diagram of the VC Verification IP for HSI Verification IP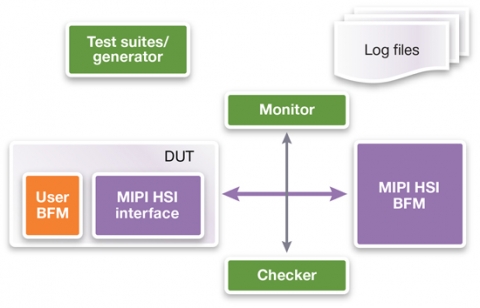 ---
View VC Verification IP for HSI full description to...
see the entire VC Verification IP for HSI datasheet
get in contact with VC Verification IP for HSI Supplier