You are here:
VC Verification IP for MIPI CSI-2 (C-PHY / D-PHY)
Synopsys VC Verification IP (VIP) for MIPI Camera Serial Interface 2 (CSI-2) provides a comprehensive set of protocol, methodology, verification and productivity features enabling users to achieve rapid verification of MIPI CSI TX and RX devices. It supports data-type interleaving frames, normal frames and Virtual Channel ID interleaving frames. It simplifies testbench development by enabling engineers to use a single VIP to verify multiple transmission modes across the full CSI-2 protocol.
Features
CSI-2 Version 1.3

D-PHY 1.2

C-PHY 1.0

Transmitter and Receiver

Four virtual channels

All types of short and long packets

Interleaved and normal frames

Inoperative and operative modes of frame number and line number

Unidirectional data transfer

ECC generation, Checksum (CRC) generation and checking

Error detection and recording

Serial and PHY Protocol Interface (PPI)
Benefits
SystemVerilog and Verilog testbench

Native UVM and VMM support

Runs natively on all major simulators

Protocol-aware debug

Built-in verification plan and coverage

Built-in Protocol checks

Error injection and exceptions

HTML based documentation
Block Diagram of the VC Verification IP for MIPI CSI-2 (C-PHY / D-PHY)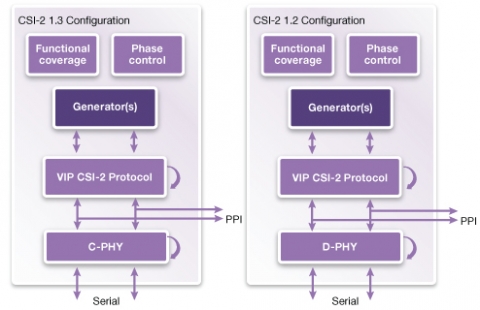 ---
View VC Verification IP for MIPI CSI-2 (C-PHY / D-PHY) full description to...
see the entire VC Verification IP for MIPI CSI-2 (C-PHY / D-PHY) datasheet
get in contact with VC Verification IP for MIPI CSI-2 (C-PHY / D-PHY) Supplier