You are here:
VC Verification IP for NVMe
Synopsys VC VIP for Non-Volatile Memory Express (NVMe) is designed to help thoroughly verify NVMe designs using both random and directed simulation.

VC VIP for NVMe is an add-on to the Synopsys VC VIP PCI Express. The VIP is implemented to be verification methodology neutral, and can be integrated with and controlled by any hardware verification language.
Features
Commands supported:

Create Admin and I/O Queues

Identify — Controller and Namespace

NVMe Read and Write commands

Multiple Controller support

Multiple I/O Queues

User configurable queue size and configuration

Namespace configuration

PRP and PRP List support

MSI-X Interrupts

Protection Information (PI)

DIF/DIX (in-band/out-of-band) meta-data

Adjustable host page size support

PI Types 0 — 3 supported

Configurable LBA, length and command priority

Automatic host memory allocation and management
Benefits
Verilog testbench

Runs natively on all major simulators

Built-in protocol checks

New queuing layer that bypasses the PCIe stack
Block Diagram of the VC Verification IP for NVMe Verification IP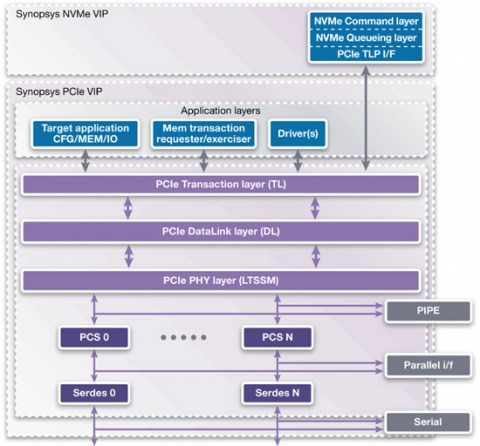 ---
View VC Verification IP for NVMe full description to...
see the entire VC Verification IP for NVMe datasheet
get in contact with VC Verification IP for NVMe Supplier