You are here:
Verification IP for DDR3 (UDIMM, RDIMM, LDIMM)
Synopsys® VC VerificationIP for the JEDEC DDR3 memory protocol specification provides a comprehensive set of protocol, methodology, verification and productivity features, enabling users to achieve rapid verification convergence on DDR3 based designs. VC VIP DDR3 is integrated with VC Protocol Analyzer, a protocol-centric debug environment that gives users an easy to understand, view of memory operations along with a consolidated view of entire address space of Memory. VC VIP DDR3 is written entirely in SystemVerilog to run natively on any simulator. Testbench development is accelerated with the assistance of built-in verification plans, functional coverage and example tests.
Features
JESD79-3F DDR3, JESD79-3-1A-01 DDR3L and JESD79-3-2 DDR3U JEDEC

SDRAM device standards

MRAM support

Built-in UDIMM, SODIMM, RDIMM, and LRDIMM

512Mb to 8Gb densities and x4, x8 and x16 wide SDRAM devices

BL switch on the fly, 8 banks, 8 bit pre-fetch

Write leveling, read leveling, jitter, auto self refresh

Address mirroring

Delay modeling : Fly by Delay, Trace Delays, Pre and Post buffer delays

DFI monitor
Benefits
SystemVerilog and Verilog testbench

Native UVM and VMM support

Runs natively on all major simulators

Protocol-aware debug

Built-in verification plan and coverage

Built-in protocol checks

HTML based documentation
Block Diagram of the Verification IP for DDR3 (UDIMM, RDIMM, LDIMM)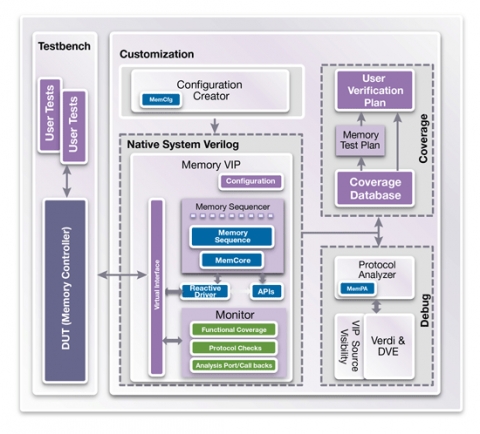 ---
View Verification IP for DDR3 (UDIMM, RDIMM, LDIMM) full description to...
see the entire Verification IP for DDR3 (UDIMM, RDIMM, LDIMM) datasheet
get in contact with Verification IP for DDR3 (UDIMM, RDIMM, LDIMM) Supplier