You are here:
xHCI Verification IP
Truechip's xHCI Verification IP targets the following three vendors:

1. xHC Driver developers,
2. xHCI IP developers(Truechip xHCI VIP act as xHCD),
3. USB3 device developers(By using existing PL/LL with Truechip xHCI).

Truechip's xHCI VIP minimize the complexity and efforts needed for above vendors. This VIP is a light weight VIP with easy plug-and-play interface so that
there is no hit on the design time and the simulation time.
Features
Compliant with xHCI 1.0 specification.

Compliant with USB3.0 and USB2.0 (including errata ) specification.

Compliant with PIPE 3.0, UTMI+ 1.1, ULPI 1.1

Full support for backward compatibility (HS/FS/LS).

Flexible user interface :AHB/AXI/PCIe

Configurable Data width (32,64,128)

Supports upto 64 device slots.

Supports upto 4 interrupters.

Supports 2 downstream ports.

Device slots, interrupters, Number of Ports are configurable.

Supports all xhci register sets.

Supports xHCI extended capability registers.

Supports all commands including optional three optional commands.

Supports all USB 3.0 transfer types - Control, Bulk(including Stream with HID), Interrupt, Isochronous (Including Smart Isoch) upto maximum burst size

Supports all USB 2.0 transfer types – Bulk, Control, Isochronous, Interrupt (including HS split transfers)

Supports USB3 and USB2 power management.

Supports optional debug capability.

Supports loopback for Debug.
Benefits
Available in native SystemVerilog (UVM/OVM/VMM) and Verilog

Unique development methodology to ensure highest levels of quality

Availability of Compliance & Regression TestSuites

24X5 customer support

Unique and customizable licensing models

Exhaustive set of assertions and cover points with connectivity example for all the components

Consistency of interface, installation, operation and documentation across all our VIPs

Supports wide variety of Dynamic as well as Static Error Injection scenarios

Supports Callback / User Configuration in Monitor and BFMs
Deliverables
xHCD Agent.

Test Environment & Test Suite :

Basic xHCI Specific Tests

Directed & Random Tests

Assertions & Cover Point Tests

Error Injection Tests

Protocol Conformance Tests

Integration Guide, User Manual and Release Notes
Block Diagram of the xHCI Verification IP Verification IP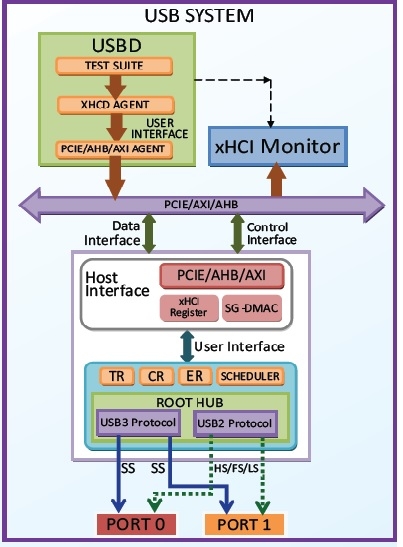 ---
View xHCI Verification IP full description to...
see the entire xHCI Verification IP datasheet
get in contact with xHCI Verification IP Supplier