You are here:
Fully Self-contained Single/Multi Port USB Type-C Power Delivery IP
SiliConch SCPD3013IP is a self-contained configurable Multiport USB Type-C Power Delivery (PD) Design IP that is based on the latest USB Power Delivery specification revision 3.0 and USB Type-C Cable and Connector specification revision 1.3. SCPD3012IP uses high performing customized 8-bit, 50-MHz MCU with configurable internal flash up to 72-KB, 8-KB SRAM, 24 GPIOs, an Authentication engine, and integrated VCONN FETs. Each port is independently capable of supporting Provider only, Consumer only, Provider/Consumer and Consumer/Provider PD Roles along with Type-C specific upstream-facing port (UFP), downstream-facing port (DFP) or dual-role port (DRP).

The analog PHY portion detects and supports dead battery interaction with Power Management (PMIC) and Battery Charger (BC) modules. SCPD3013IP provides an interface with system host to update control and status information especially needed for System Policy Manager (SPM) communication. In addition, SCPD3012IP supports authentication, alt mode and advanced low-power management.

SCPD3012IP with 4 Type-C ports is already available in early proto-type proven form on FPGA based development kit and 50-QFN test chip package will be available by Q1 2017.
---
View Fully Self-contained Single/Multi Port USB Type-C Power Delivery IP full description to...
see the entire Fully Self-contained Single/Multi Port USB Type-C Power Delivery IP datasheet
get in contact with Fully Self-contained Single/Multi Port USB Type-C Power Delivery IP Supplier
Block Diagram of the Fully Self-contained Single/Multi Port USB Type-C Power Delivery IP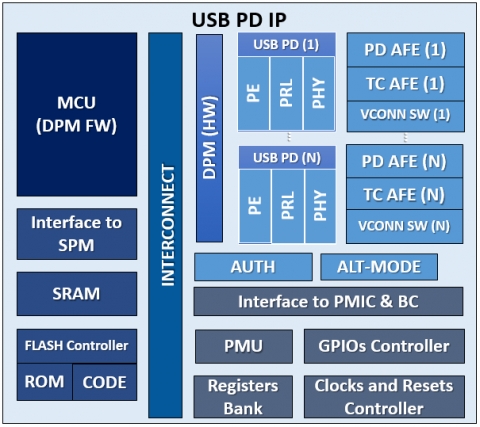 Video Demo of the Fully Self-contained Single/Multi Port USB Type-C Power Delivery IP