You are here:
PowerVR Series9XM GPU Family
PowerVR Series9XM GPUs are a new generation of PowerVR GPUs based on the PowerVR Rogue architecture, that raise the bar on graphics and compute in cost-sensitive devices, letting SoC vendors achieve a significant boost in performance with no impact on silicon area versus previous generation GPUs. Consumers today want exciting graphical applications and technologies in their devices, but they also often want those devices at the lowest possible cost. The new PowerVR GPUs deliver compelling graphical capabilities for even constrained price points, giving SoC developers a flexible family of GPUs that provides the right level of performance for products to stand out at any price point.

The Series9XM family of GPUs also benefit from improvements in the memory subsystem, reducing bandwidth by as much as 25% over previous generations to ensure the increased processing power can be fully exploited. Other new features in the 9XM family include a new MMU, allowing a greater address range and standard support for 10-bit YUV across the range, without impacting area.

Series9XMPUs deliver the best possible real world user experience for GUI, HMI (human machine interface) and casual gaming on cost-efficient products including DTVs, set-top boxes, streaming sticks/dongles, automotive infotainment and cluster electronics, and entry-level mobile and tablet devices.

Features
Support for hardware virtualization and Imagination's OmniShield™ multi-domain security, enabling customers to build systems in which applications and operating systems can run independently and reliably on the same platform

Support for Khronos graphics APIs including OpenGL ES 3.2, and Vulkan 1.0; and advanced compute and vision APIs such as RenderScript, OpenVX™1 and OpenCL® 1.2 EP*

Optional support for PVRIC3, the latest PowerVR lossless image compression technology for optimal system integration efficiency.
Benefits
The best performance/mm2, 9XM GPUs use several new and enhanced architectural elements to achieve up to 70% better performance density than the competition*, and up to 50% better than the previous 8XEP generation

Bandwidth savings of up to 25% over the previous generation GPUs through architectural enhancements including parameter compression and tile grouping

Memory system improvements: 36-bit addressing for improved system integration, improved burst sizes for efficient memory accesses, and enhanced compression capabilities

Extremely low power consumption with Imagination's proven Tile Based Deferred Rendering (TBDR) technology
Block Diagram of the PowerVR Series9XM GPU Family IP Core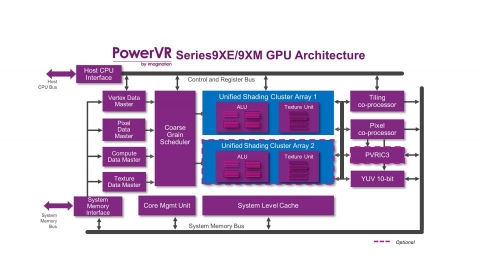 ---
View PowerVR Series9XM GPU Family full description to...
see the entire PowerVR Series9XM GPU Family datasheet
get in contact with PowerVR Series9XM GPU Family Supplier