You are here:
NVM Express Verification IP
Truechip's NVM EXPRESS Verification IP provides an
effective & efficient way to verify the high performance queuing interface and command set optimized for PCIe SSD's.

Truechip's NVM EXPRESS VIP is fully compliant with standard NVM EXPRESS specifications Rev1.2a. This VIP is a light weight VIP with easy plug‐and‐play interface so that there is no hit on the design cycle
time.
Features
NVMe is scalable from client to enterprise applications

Compatible with standard driver and development tools

Logical block data and metadata

End-to-end data protection (T10 DIF and DIX compatible)

Security enabled

Submission Queue arbitration and QoS

Firmware update and activation

Dynamic power management

Robust error reporting

Interrupt coalescing configuration/ control

Capability discovery and configuration

Unlimited number of outstanding request support

Up to 64K I/O queues each with up to 64K entries

32-bit controller unique command identifier allows

32 up to 2 outstanding commands

Supports many-core processors without locking

At most One doorbell write to issue a command

Fixed size 64B commands and 16B completions enable fast and efficient command decode and execution

PRP based scatter/gather list allow efficient out-of-order data delivery
Benefits
Available in native SystemVerilog (UVM/OVM/VMM) and Verilog

Unique development methodology to ensure highest levels of quality

Availability of Compliance & Regression TestSuites

24X5 customer support

Unique and customizable licensing models

Exhaustive set of assertions and cover points with connectivity example for all the components

Consistency of interface, installation, operation and documentation across all our VIPs

Supports wide variety of Dynamic as well as Static Error Injection scenarios

Supports Callback / User Configuration in Monitor and BFMs
Deliverables
NVM EXPRESS Host/ NVMe Controller

NVM EXPRESS Monitor and Scoreboard

Test Environment & Test Suite :

Basic and Directed Protocol Tests

Random Tests

Error Scenario Tests

Assertions & Coverage Tests

Compliance Tests

Integration Guide, User Manual and Release Notes
Block Diagram of the NVM Express Verification IP Verification IP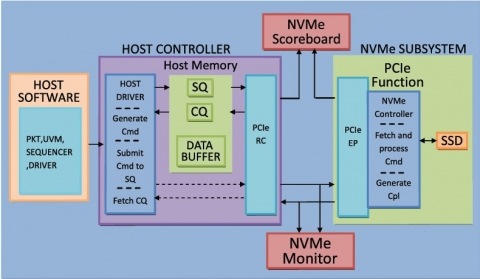 ---
View NVM Express Verification IP full description to...
see the entire NVM Express Verification IP datasheet
get in contact with NVM Express Verification IP Supplier