You are here:
NVMe Verification IP
Non Volatile Memory Express, also known as NVMe is an interface specification built for accessing Solid State Drive (SSD) over PCIe. NVMe has revolutionized the data I/O and throughput performance of Flash based SSD storage units. With advent increase of SSD market due to their high performance benefits NVMe has gained more adoption among storage silicon vendors.

eInfochips has developed Verification IP and Validation Test Suite based on the latest available protocol standards (NVMe 1.2) from NVME.ORG body. The VIP and Test Suite aim to accelerate product design schedules for R&D teams working on the next gen products, while reducing the product and performance risks. The eInfochips NVMe VIP reduces verification environment setup effort for ASIC (Application Specific Integrated Circuit) and FPGA (Field Programmable Gate Array) design verification. While as the NVMe Post-Silicon Validation Test Suite enables test scenarios including, and beyond the ones defined by UNH-IOL (University of New Hampshire Interoperability Lab).

Features
NVMe 1.2 Compliance

User configurable Admin/IO queue size and configuration

Admin commands for IO queues and NVM read/write, reset, abort, identify, get and set features

Supports PRP and PRP List

All interrupt reporting: pin-based, single message MSI, multiple messages MSI, MSI-X

Exhaustive checkers

Exhaustive functional coverage

Hook-ups for score boarding and additional processing

Bandwidth calculator per direction per component

Works with other PCIe VIP and custom BFM/IF
Block Diagram of the NVMe Verification IP Verification IP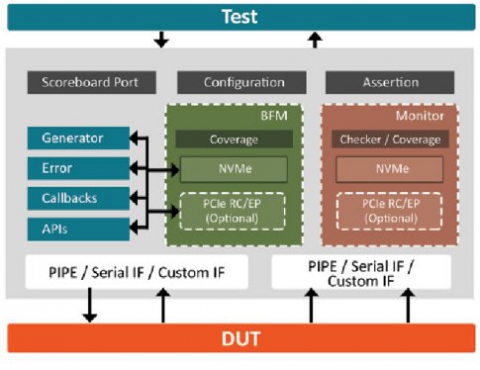 ---
View NVMe Verification IP full description to...
see the entire NVMe Verification IP datasheet
get in contact with NVMe Verification IP Supplier