You are here:
SDIO HOST VMM based Verification IP
The Secure Digital Input Output (SDIO) interface is a card interface defined to connect a SD Host Controller with four different types of cards, namely SDIO card, SD memory card, SD Combo card and SD Multimedia Card (MMC). SDIO is a master-slave protocol, where SD Host Controller, as a master, performs various operations like card detection, card initialization, card selection, card register read/write and also some other special operations.

eInfochips' VMM based SDIO HOST Verification IP (VIP) allows coverage driven verification and it is designed to verify all four types of cards
Features
VMM based (uses SV Test bench , VMM library and VCS version Y-2006.06-SP1-1 )

Support for SDIO, SD Memory, SD Combo card and MMC

Supports single slot operation

Easily configurable to work as SDIO aware or non-SDIO aware host controller

Supports card detection on DAT [3] line in SD mode and CS line in SPI mode. Pull- Up/logic high on this indicates insertion of card

Support for re-initializing combo card in either SDIO only mode or SD memory only mode

Command level support for resetting the card, setting bus width and changing bus mode (SD to SPI)

Supports 1-bit, 4-bit, 8-bit (for MMC Only) SD bus mode and SPI bus mode

Supports low speed mode, full speed mode and high speed mode of operation

Supports single byte ,single block ,multiple block (finite and infinite ) transfers

Supports stream transfer for MMC

Supports direct command during data transfer, for SD mode only

Supports read wait operation. It allows read wait control by stopping clock and by asserting dat[2] line low

Supports transfer synchronous abort and asynchronous abort

Supports card Suspend/Resume operation

Supports card lock-unlock and erase operations

Provides support for card SD 1-bit and SPI mode interrupt and SD 4-bit mode interrupt(both regular interrupt and interrupt between multiple block operation)

Support for SDIO Clock disable and wake up through interrupt

Support Functional coverage to enable user to have coverage driven verification

Provides monitor and self checker models that enable protocol checking and transaction level checking

All SDIO Command and SD Command support

It can be easily integrated with Verification Environment to support plug and play use

Possible User Constraint

User can constraint configuration class to verify particular card

Provision to give constraint to all kind of SDIO transactions

User can inject bus level and transaction level errors using callbacks

Provision of a user port to enable user to provide his/her own transaction and data, and get feedback with transaction status/response
Deliverables
Completely verified SDIO HOST Verification IP encrypted code

Documentation – User Guide, Release Notes

Sample Test cases
Block Diagram of the SDIO HOST VMM based Verification IP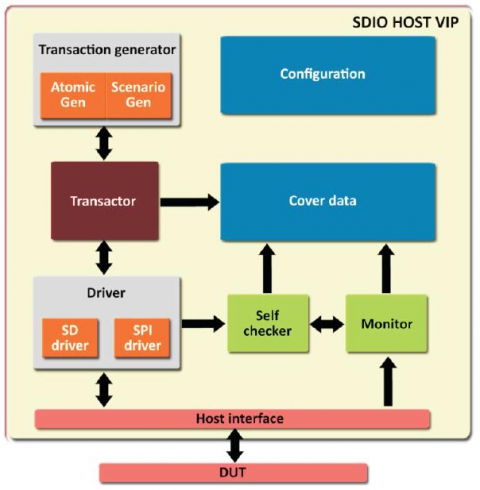 ---
View SDIO HOST VMM based Verification IP full description to...
see the entire SDIO HOST VMM based Verification IP datasheet
get in contact with SDIO HOST VMM based Verification IP Supplier