You are here:
Complete USB Type-C Power Delivery PHY, RTL, and Software
The OTI9108 is a complete single transceiver front end for data USB PD Type-C (baseband) communications. It has a register interface which, with an MPU, and available Obsidian software, a complete PD port device can be designed.

At $65K for a basic multi-use license The OT9108 is not only the most mature USB Type-C IP available, it is the lowest cost.
Features
USB PD 3.1 compliant.

8 bit register interface for a low speed processor, or optional I2C interface.

Integrated Chapter 6 protocol reduces required MPU response time to 10mS.

K code recognition/coding, preamble, CRC, etc load from processor.

VCONN 200mA foldback and over temperature protected driver switches.

3V or 5V VCONN options.

Supports UFP, DFP, and dual role.

Supports 1.5A & 3A current modes.

Single 12MHz clock + 32KHz low power clock.

Low power: normally operates on 32KHz clock.

Compliance tested port IP.

Low cost CMOS process technology.

<0.7mm2 die area at 180nm.

Available as IP for integration or as complete chip.

FPGA based Demo/development board available.
Benefits
Very low power - 32KHz powered down operation.

High maturity - Compliance tested and in volume production with several major OEM's.

All configurations.

Low risk - compliance results available for review.

Supports all specification optional features.

Lowest price - Obsidian is never knowingly undersold.
Deliverables
PHY: GDS, verilog model, design review.

RTL: with Back to back port simulation harness.

C source code for port policy engine and device policy manager.

C source code for Windows demo control application.

Data sheet.

Compliance test results from demo board.

ATE vector generator C code.

Object generator scripts.

Pre sale on-line source walk-through.

Demo Board: with installed software, and power supplies for back to back system testing, and for use in compliance testing.
Applications
Power supply

Bus powered devices

Automotive
Block Diagram of the Complete USB Type-C Power Delivery PHY, RTL, and Software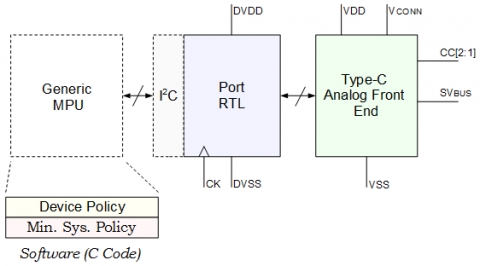 ---
View Complete USB Type-C Power Delivery PHY, RTL, and Software full description to...
see the entire Complete USB Type-C Power Delivery PHY, RTL, and Software datasheet
get in contact with Complete USB Type-C Power Delivery PHY, RTL, and Software Supplier