You are here:
USB-C/PD power adapter
IQonIC Works USB-C/PD power adapter IP includes components required to build an integrated programmable power supply (PPS) charger solution.

The USB Type-C source controller detects connections and controls provision of VBUS and VCONN power.

The USB BC and QuickCharge controller negotiates power supply for legacy devices using BC1.2 and QC2/3/4 protocols.

The USB PD controller autonomously negotiates power contracts with a device using PD 2.0 or 3.0 protocols, including PPS messaging. It includes PHY, protocol, and source policy layers, and integrates with a host processor that provides device policy management.

The usb_pa_platform reference design integrates these IP blocks with other IQonIC Works IP into a complete power adapter ASIC solution. The platform includes power-supply control using an IDAC, VBUS load switch control, ADC, fault monitoring, temperature sensing, a RISC-V processor subsystem with ROM/OTP/SRAM memory, and I2C and GPIO interfaces.

IQonIC Works provides embedded firmware for the usb_pa_platform. The firmware can be customized for a target application using IQonIC Works IDE, which integrates with the embedded debugger in the hardware platform.

Features
RISC-V RV32EC processor subsystem with debug module, JTAG debug transport, and instruction and data ROM and SRAMs

Bandgap Vref/Ibias blocks that provide reference voltage and bias currents to analog blocks

LDOs to derive power from the the external converter to power internal digital logic, analog blocks, and I/Os

Power-on (PON) reset for digital blocks during power-supply ramp up and down

48MHz oscillator that provides the main clock for digital blocks

10kHz low power oscillator that provides a clock for the watchdog timer

System control block that provides clock and reset control for digital logic, including clock gating

System timer and watchdog timer

I2C slave interface for test-access

I2C slave controller for external host access

I2C master interface for general purpose use

I2C transceivers

GPIO controller for outputs

USB PD control and analog transceiver. The PD control implements PHY, protocol, and source policy engine layers.

USB Type-C control and analog front end. The Type-C control implements the source state diagram.

USB BC1.2 and QuickCharge 2/3/4 control and analog front end

Power supply (PS) control and analog front end to control the setpoint for the external regulator, including slew-rate controlled transitions between voltages

Current sense (ISNS) amplifier and control

VBUS control and analog front end, including load-switch gate driver, discharge resistor, and voltage divider for VBUS measurement

Monitoring control and analog front end for over-voltage, over-current, and reverse-current protection. The block includes comparators and interrupt request logic for fast response to faults.

NTC thermistor and configuration resistor control and analog front end, driving source current into external resistors to generate a voltage to be measured by the ADC

Multichannel SAR ADC control and analog front end, used to measure power supply voltage, VBUS voltage, current sense, thermistor temperature, and config resistor voltages

One-time programmable (OTP) memory with controller for programming and read access

Test access port with I2C slave interface

Test control and trim registers

Flexible Licensing Options

Project based, Term, or Perpetual Licenses (Single Project or Multi-Project, Single Technology or Multi-Project/Multi-Technology)

Manufacturing License options (GDS IP)
Deliverables
Detailed data sheet and integration guide

Synthesizable Verilog RTL source code

ASIC digital synthesis constraints

Complete analog IP in GDSII, including analog PHY

FW source code

FPGA development board with analog mezzanine card

UVM based verification environment and test cases

Design guide, programming user manual, and verification guide
Applications
USB-C/PD Source-only port

Battery charger
Block Diagram of the USB-C/PD power adapter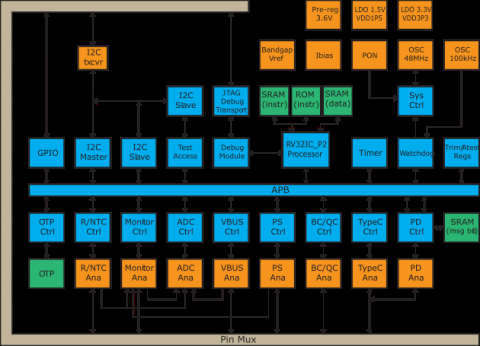 ---
View Digital and mixed-signal IP and ASIC RISC-V reference design for USB Type-C/PD power adapter/charger full description to...
see the entire Digital and mixed-signal IP and ASIC RISC-V reference design for USB Type-C/PD power adapter/charger datasheet
get in contact with Digital and mixed-signal IP and ASIC RISC-V reference design for USB Type-C/PD power adapter/charger Supplier