You are here:
eMMC Verification IP
Truechip's eMMC verification IP provides effective and efficient way to verify the component interfacing with eMMC interface of an ASIC / FPGA / SOC.
Truechip's eMMC verification IP is fully complied with standard eMMC version JESD84‐B51 from JEDEC. This VIP is a Light Weight VIP with easy plug and play features.
Features
Compliant to JEDEC eMMC version JESD84 ‐ B51.

supports eMMC devices from all leading vendors.

supports configuration for both host and device.

support all data widths 1x ,4x and 8x. and all speed modes (Low speed / High Speed)

support both Single and multiple block transfers.

supports Tuning and general purpose commands

supports Lock and Unlock features.

supports Block read and block write.

supports device density of Greater than equal to 2GB.

supports both Normal and alternate boot operation.

supports sleep modes , Reliable Write, Write Protection mechanism.

Supports Multiple Partitions ( Boot area / user area / general purpose partion)

support for both SDR and DDR.

supports Data removal commands Erase / Trim / Santize / Discard , Secure Erase /TRIM

supports RPMB ,Background operation and HPI

supports High Speed Mode (HS200 and Hs400)

supports Enhanced Partition Types and packed commands

supports Extended Security Commands

Supports Enhanced Data Strobe and sleep mode

supports Bus testing and partitioning features

Support byte and Block Mode Operations

Reports various timing errors, which can be used to check any timing violation.

Provides full control to the user to enable / disable various types of messages.

supports dynamically configurable modes and constrained random testing.

strong protocol monitor with real time exhaustive programmable check.

supports Dynamic as well as static error injection scenario

built in coverage analysis

provides a comprehensive user API (call backs) in monitor ,host and device controller models /BFM

Graphical analyser to show transaction for easy debugging.
Benefits
Available in native System Verilog (UVM/OVM/VMM) and Verilog

Unique development methodology to ensure highest levels of quality

Availability of Compliance & Regression Test Suites

24X5 customer support

Unique and customizable licensing models

Exhaustive set of assertions and coverage points with connectivity example for all the components

Consistency of interface, installation, operation and documentation across all our VIPs

Provide complete solution and easy integration in IP and SoC environment.
Deliverables
eMMC Host controller BFM / Agent

eMMC Device Controller / Memory BFM/DUT

eMMC Monitor

eMMC Scoreboard

Test Bench Configurations

Test suite available in source code

Basic Protocol test

Directed and random test

Assertion and cover point test

Integration guide / User Manual /release notes

GUI analyzer to view simulation packet flow
Block Diagram of the eMMC Verification IP Verification IP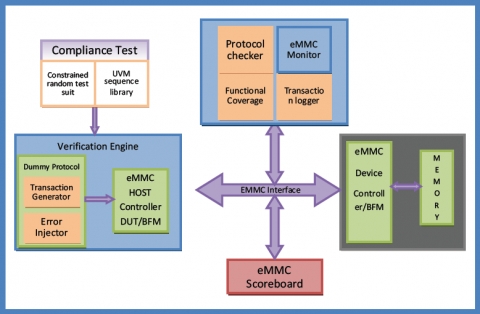 ---
View eMMC Verification IP full description to...
see the entire eMMC Verification IP datasheet
get in contact with eMMC Verification IP Supplier